Description: SpeakJet Activity Center
---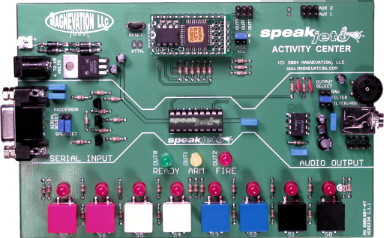 * Note: OOPic C shown above is not included.
Power supply requirements - 6 to 18 volts DC.
Allows designers to test and develop applications around the SpeakJet voice/sound synthesizer.
Exploits all of SpeakJet's features and options.
Built in audio amplifier. Just connect amplified or un-amplified computer speakers.
Standard RS-232 interface for direct connection to SpeakJet from PC or any device that supports RS-232. Also allows RS-232 connection to the on board processor
Two Aux. I/O jacks to allow on board processor access to off board peripherals. Ideal for servos to move lips on face.
SpeakJet outputs for connection to external loads.
8 lighted push-buttons for project mode input to SpeakJet. Can also be read by on board processor.
Mode select jumper allows user to select any of the operational modes of SpeakJet.
Use board to play speech prompted games by utilizing lighted push-buttons, sound effects and speech.
Small convenient size, 6" X 4"
Circuit Board is manufactured and assembled in the U.S.A. and is of the highest quality. These boards are double sided, tinned and plated thru holes, with solder mask on both sides, and parts legend on the top side. These Assembled boards have been electrical and functionally tested and visually inspected prior to shipping.
This page was last updated May 17, 2006